Join Our MUUV  Yoga 
Boise 
Treehouse Tribe
Boise Yoga, Dance, and Pilates For All You Beautiful Boiseans
We are a unique and beautiful Boise yoga studio located right on the river, only a few minutes from downtown Boise. Our Boise yoga studio is nicknamed "The Treehouse" because it is high in the trees, full of natural light, and the perfect place to feel grounded in the present moment. This adult-only playground is a quiet retreat, where you can meditate, move the body, and feel revitalized in no time. Our Boise yoga studio is a place free of judgement, filled with passionate and loving yoga teachers who are passionate about helping you with your yoga practice.
Everybody is different, so we strive to accommodate all of the bodies and levels of Boise yogis out there. We offer a wide variety of classes such as Vinyasa yoga, Kundalini yoga, yoga for stiff bodies, Restorative yoga, Buti yoga, Pilates, and even dance! If you are new to our Boise yoga studio then be sure to check out our 1 Week Unlimited Yoga Special. (local Boise area residence only). This is a fantastic way to check out all of our classes and teaching styles.
Yoga is For Everyone
Are you looking for reasons to try yoga?
Yoga has amazing physical, mental, and spiritual benefits. It helps you gain more flexibility in your muscles and joints, builds strength, tones the muscles, melts fat, toughens your immune system, lowers blood pressure, improves concentration, boosts confidence, and most importantly makes you feel great.
MUUV yoga studio is truly a unique and loving space where you can come be yourself and do what feels good to you and your body. You don't need to know yoga to feel at home here at our Boise yoga studio. It is our mission to love and uplift one another in this community through yoga and movement. We hope to see your face here with us. Check out our upcoming Boise yoga classes here.
Special Yoga Deals for Boise Yogis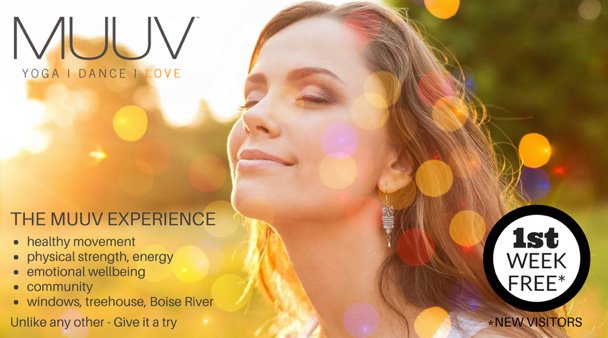 Not sure what yoga classes fit your style?
Are you new to the studio?
This MUUV Boise yoga special may be the deal for you!
CLICK HERE to get your 1-Week FREE unlimited MUUV Pass! 
MUUV Yoga Boise Classes Offered
Here at MUUV, we offer a wide variety of classes for all you beautiful beings.
Whatever you're looking for, chances are you will find it at MUUV.
Vinyasa classes for all levels, Kundalini classes, a special core-centric Lunch Crunch dedicated to level 2 and 3 yogis, Buti yoga, Sunday Flow, and Restorative yoga classes.
Love to move, dance, and sweat? We also have some fun Power Party Sculpt dance classes where you can get your groove on while learning some fun dance moves.
 Learn more about our Boise yoga classes and their offerings here. 
Pilates more your thing? Schedule a pilates class with us today.
Get To Know Our MUUV Yoga Boise Tribe
Our instructors and all of you are really what makes MUUV what it is. Yoga is not about the craziest pose or being the best looking one in the room. Yoga is a way for you to connect within. It can be mentally and physically challenging at times, but that is okay. Our teachers are here to show you what has been within you this whole time. We are here simply as guides. Your body is your true teacher. We strive to flood you all with love and motivation. Each of our instructors bring something special and unique to MUUV. No matter your level or experience, there is a teacher here for you. Meet all of our dance, pilates, and yoga instructors here.
Let's MUUV Together
Upcoming Boise Yoga Workshops
Our Boise yoga studio MUUV is proud to offer fun and amazing workshops for all you Boise yogis.
The unique experience of a yoga workshop
Yoga workshops are one of the best ways to dive deeper into your practice and further your journey as a yogi. Studio classes do not always give you enough time to learn all there is about a pose and workshops are a fun way to learn more about the correct alignment, how to get in and out of poses safely, and advancements and modifications for key postures.
Yoga workshops are a great way to receive the one-on-one attention that is difficult in a regular class setting. Every yogi can benefit from workshops, even instructors! Yoga workshops provide the time and attention needed to enhance your practice physically, mentally, and even spiritually. See what upcoming yoga workshops we have.
We hope to see you at our beautiful Boise yoga studio.