Mikayla Latta,  RYT 200, CSC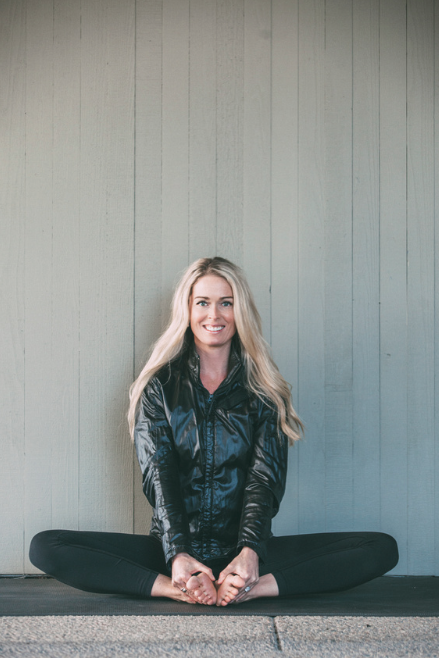 Mikayla has been running the MUUV Yoga Boise studio for 9 years and practicing yoga for 12 years. Six years into the running of MUUV she felt a calling to deepen her yoga awareness and expand her abilities to be of further service to the community through teaching. Along with her training as a Life Coach, Mikayla chose to study with one of the most experienced teachers in America, Amy Ippoliti. Amy's extensive background in Anusara yoga, alignment, and yoga therapy which was perfect for Mikayla's desire to help people discover yoga as a means to heal and strengthen their body. With struggles of her own injuries in the shoulders and neck, practicing alignment based yoga offered a window into her own healing. Mikayla has found great joy in offering the same insights and wisdom to new and established students alike.
With her training in alignment based yoga and life coaching, Mikayla tailors her private yoga sessions for her clients physical, emotional and spiritual well-being. Alignment based yoga can be profoundly therapeutic to the body. With hands on assists, and strong verbal cuing, Mikayla offers her clients the opportunity to learn more about their body in yoga and how to practice in a safe and nurturing way. Private yoga sessions in the MUUV studio offers the perfect sacred space to learn and grow your yoga practice.
Mikayla also offers Blended Sessions which is a combination of life coaching and private yoga sessions. This is ideal for someone looking for a path of transformation and growth. Refer to Mikayla's coaching page to learn more about this option.
Jenny Lewis
Movement in all its forms—physical, psychological, and spiritual—has been the focus of Jenny's classes for over 25 years. Although Jenny currently spends most of her time teaching yoga and Pilates Reformer classes, she still gets a thrill from leaping off her step while teaching aerobics.

Having studied with many amazing Yoga masters, Jenny's practice is deeply influenced by John Friend, the founder of Anusara Yoga. She has participated in countless workshops with John and many of his most Senior Anusara Certified Instructors at various sites around the country. Jenny knows from experience that the Universal Principles of Alignment resonate with almost every "body," and she regularly sees these principles at work in her students as they are empowered by the Yogic process.

Connection to her students brings Jenny great joy and satisfaction, for it is in this connection that her success, and more importantly the success of her students, is measured and manifested. As she comes to learn their histories and know their bodies; as she watches their faces when they connect to and understand the movement she's teaching; their strength and potential motivate her to do more, learn more, and be more.

It was a privilege for Jenny to be named as one of lululemon's ambassadors. Not only does she derive inspiration from their manifesto but she simply adores their clothing and how she feels when she's wearing lululemon.

Faith and family are the cornerstones of Jenny's life. She has been married to her husband for 26 years and has three beautiful children, ages 22, 18, and 12; all of whom bring light to her life every day. As a family, they enjoy time on their boat, skiing, watching movies, and time at the ocean.


Jenny Teaches:
Vinyasa Flow
Lunch Crunch
Pilates Reformer

Sean Duffy, E-RYT 200 

Experiencing a major change in life led to Sean discovering his yoga path and a calling to guide others. As a longtime outdoor athlete experiencing the beauty of tall rocks and large mountains, Sean discovered the symbiotic relationship between yoga and these pursuits. As an instructor, Sean's blend of challenging and nurturing his students has helped him develop a connection with those he seeks to serve.
Sean can be found teaching yoga at many locations in Boise, and is thrilled to now call MUUV one of them!  Sean's endless pursuit of yoga knowledge shows through in his attention to detail and creativity.  Sean is currently achieving his 500 hour yoga certification and recently taught the  Mass Yoga Class for Yoga Week 2018 in Capitol Park.
For more information on Sean, visit his Instagram or Facebook.
Sean Teaches:
Mountain Flow Vinyasa
Yoga Nidra
Evening Flow

Lisa Simpson, RYT 500, E-RYT 200 
Lisa is passionate about healthy living, the outdoors, the teachings of yoga (asana, pranayama, meditation and poetry) and sharing with others in a way that inspires humor and well-being.  She has been teaching yoga since 2011 and really enjoys teaching alignment based vinyasa with plenty of warm up and creative, smart sequencing gradually leading into deeper poses and sometimes ones you didn't even know you could do!  Lisa provides plenty of cues to help you focus on form and breath, safely giving variations for all levels from beginner to advanced level practitioners.
She also teaches Yin style yoga as well as assisting new to yoga, self-assessed "inflexible" folks seeking sustainable exercise – whether after injury or after a warrior weekend of activity. Lisa has studied with master teachers and has nearly 2000 hours of teaching with Yoga Alliance RYT 500 and E-RYT 200 and BA in Psychology/minor in Gerontology as well as professional experience as a Certified Personal Trainer and Cancer Exercise Specialist.   She also has sought a daily meditation practice in the past 2 years which has influenced her greatly to encourage others to try a few minutes of mindful breathing each day.

Jesse Jarvis,  RYT 200
Jesse is empowered to bring the physical and mental practices of yoga to as many as she can
reach. As a former corporate employee, she can relate to the every day office worker and
builds her teaching around a well balanced mental and physical practice. Jesse received her
200-hour RYT certification as a Hatha Yoga teacher from Rishikesh Yog Peeth in Rishikesh,
India and is excited to be a life long student of Yoga. In her classes, you can expect an
accessible & approachable style of teaching, enabling students of all levels to feel comfortable
and encouraged in their practice. Jesse is also passionate about teaching kids yoga and is a
certified KAY™ Kids Yoga, Meditation & Mindfulness teacher. She loves being outside under
the sun, in the mountains and hanging in her garden with her cat, Mendel.
Jesse Teaches:
Gentle Flow & Restore Class
Gentle Flow
Yin Yoga
Vinyasa

Angie Brooks,  RYT 200,  BUTI Yoga Certified

Angie has been practicing yoga for 7 years, and discovered BUTI yoga 4 years ago through searching for something she could practice at home. She immediately felt the transformation and bliss that comes from a workout that has grown into a passion she wants to share with others.  Angie's intention for all her classes are for her students to have a safe space to connect, transform, and sweat through yoga and dance.

      
Celeste Bolin, Ph.D, RYT
Celeste's classes are all about gratitude, being thankful for the body you have, the spirit you were born with, and being present in the moment-right here-right now, to just DANCE. She is dedicated to guiding her students through a heart-first transformation of obligations and suffering to empowered, fist-pumping, booty-shaking affirmation of the freest version of self. There is no one way to dance, and Celeste infuses her classes with a constant reinforcement that embracing your unique movement style is the absolute best way to find yourself and fall in love on the dance floor.

Celeste has been studying and performing a variety of dance genres including classical ballet, jazz, modern, hip hop, Brazilian samba, and West African dance for over twenty years now. She has been teaching dance as a mindful exercise practice for over six years now at multiple studios around her hometown of Boise, ID and is continually modifying her unique curriculum to focus on cardiovascular fitness, strength, and flexibility in the physical body as well as our self-image.

In July of 2014, Celeste added on a level of awesome to her multidimensional movement style by completing the 200 hour interdisciplinary yoga teacher training at the Nosara Yoga Institute. For more information on Celeste and her classes, visit her website or Facebook. 

Celeste Teaches: 
Power Party Sculpt Dance Class

Workshops
Carrie Goeddertz, RYT 200, BUTI Yoga Certified
Yoga has been a part of Carrie's life for 15 years.  After acknowledging a tugging at her heart, she became a certified teacher in Vinyasa, Restorative and Yin and most recently BUTI (a soulful blend of power yoga, cardio infused tribal dance and deep abdominal toning.
Carrie is passionate about life, believing each day is a gift to be lived to the fullest. Carrie is thrilled to have the opportunity to help bring a sense of calmness and mindfulness through a Restorative Practice at MUUV.
Libby Cunningham, RYT 500

Libby Cunningham is a kind and compassionate yoga teacher who teaches from her heart. She believes that yoga is much more than the physical postures and strives to teach students about acceptance and living a life of compassion. Libby enjoys weaving the yoga "ethic/guidelines" into her classes. She believes that yoga isn't about self-improvement, but rather self-acceptance and finding the relationship with SELF!
Libby's favorite style of yoga to teach is vinyasa but loves all yoga! She has been teaching for the past 3 years in the Boise community, hot yoga, and yin at Essential Hot Yoga and also teaching all-levels vinyasa at Yoga 430 in Nampa.
Libby received her 200 RYT from Sumits Hot Yoga in April 2014 and just this past January 2017 graduated from Shanti Yoga School, McCall with her 300 RYT. Libby is an Idaho native, born and raised in Caldwell. She is married with 2 grown daughters and 2 adorable identical grandsons. When Libby isn't teaching you can find her on her mat at local Boise studios or on a golf course with her husband attempting to land her second hole in one. She is excited to be a part of the MUUV studio!
Libby's Classes at MUUV:
Vinyasa